Swabs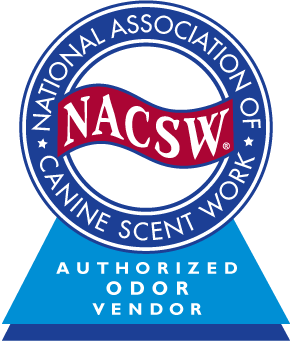 NACSW ORT Certifying Officials can order scented swabs here.
All of our scented swabs are made according the NACSW requirements.
The wide mouth glass vials can be purchased empty, with 10 scented swabs or 10 unscented swabs. Cap color may vary.

Swab Vials: $2.00 each

Swab Color and Scent:
……….
Mylar Pouches – 50 swabs in a turquoise 3"x4.7" Mylar resealable pouch. 100 swabs in a purple 4"x6" Mylar resealable pouch. The pouches are lightweight and have an easy open/close zip lock feature. When the pouches are properly closed, they are water and odor proof. Essential oils will not disintegrate the Mylar pouch.
The empty pouches would also work great for storing your droppers.
Small Mylar Pouch 50 Swabs: $3.00 each $.50 empty
Large Mylar Pouch 100 Swabs: $5.00 each $.50 empty
Cotton Swabs – Unscented, 50 white 1/2 swabs and 10 black 1/2 swabs in a zip lock bag.  We do the tedious job of cutting the swabs for you.
Price: $1.00 per bag
……..
Colored Swabs – Do you like to use a unique color for each scent?  These are an excellent choice.  They have a paper stem (just like the white ones) with a colored cotton swab.  Unscented, package of 25.  Five colors to choose from.
Price: $.75 per bag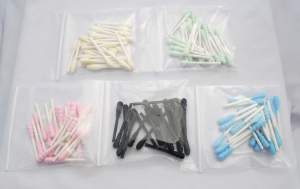 Swabs in a Jar – 1oz glass jar with a metal screw on lid contains 40 white swabs and 10 black swabs. They can be purchased scented, unscented or an empty jar labeled Combo (so you can create your own combos).

Price: $4.00 per filled jar or $2.50 empty