Complete Kit – NACSW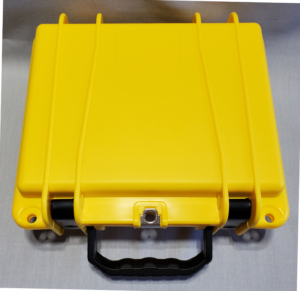 We have recently upgraded our cases for these kits. The new cases are a bit larger plus the latches and hinges are more durable. We are able to add more items to these larger cases so you have a variety of scent containers to play with.

Price: $90.00 each

This kit contains:
1 dram vials of birch, anise and clove essential oil with caps and droppers
3 wide mouth vials with 10 scented swabs each of birch, anise and clove
3 wide mouth vials with labeled screw top clear tubes
1 slider tin with holes
1 small round tin with holes
1 hinged tin with holes
1 3.75″ silver tweezers
1 wide mouth vial labeled Combo so you can create your own combo odors
1 wide mouth vial with 10 unscented swabs
1 zip lock bag of assorted colors and sizes of flat tubing
1 1/2 oz packet of Quake Hold
1 small 2.5″ green pik
The cases are yellow and dimensions are:
Inside Dimensions: 9.60″L x 7.42″W x 4.00″H
Exterior Dimensions: 10.80″L x 9.90″W x 4.90″H
Weight Empty: 2.00 lbs
The foam insert is customized to keep all the above items organized and safe. There is also a foam piece in the lid to hold all the items securely when the lid is closed.
The case is molded from tough polypropylene and is rugged, lightweight, watertight and airtight. A perimeter o-ring keeps the case airtight.
If you feel the need to lock your case there are holes in the lid that will fit a padlock (padlock not included).